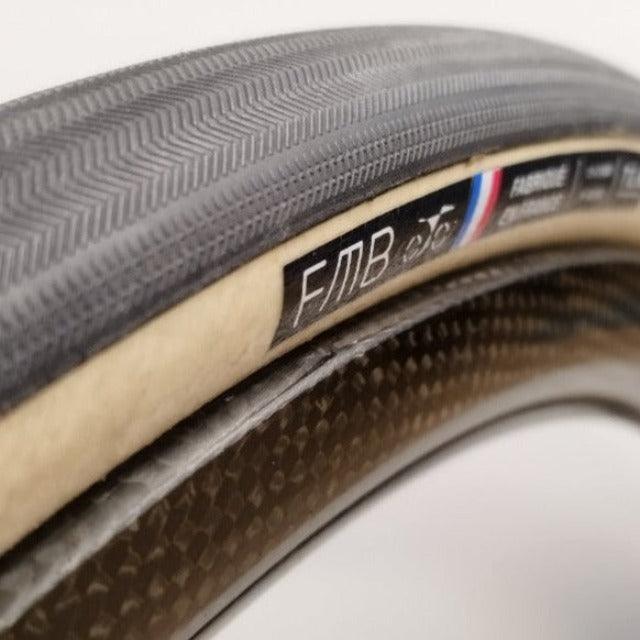 FMB Endurance Linen open tubular tire - 33mm
Regular price
€64,00
/
Tax included.
The FMB Endurance Linen open tubular provides superior grip and superior puncture-resistance for unbeatable comfort and control it is the ideal tire for very long distances.
By using the construction method of the tubular tires, it allows exceptional performance and offers remarkable comfort, all for a reduced weight of only 335g. 
Developed in cooperation with Linen Burquier, FMB developed over 2 years the use of linen fibers in tire casing first in the world's biggest cyclo-cross races.
Its 33mm wide casing (depending on internal rim width) is durable and suitable for hooked or hookless rims with added protection from the Protect Rim System.
A great novelty in the field of tires with an ecological version using 50% linen thread. Flax is mechanically more resistant than cotton, and the suppleness is equivalent.
FMB use linen fiber thread on the outer casing of the tire to take advantage of its better
abrasion resistance and protect the sidewalls of long-distance tires.
The use of linen contributes to sustainable agriculture since its cultivation requires little
nitrogen and therefore does not cause pollution by nitrates. It does not require irrigation and adapts very well to growth with little or no use of pesticides. For comparison, cotton cultivation requires an annual irrigation of 5,000 m3 per hectare and at least five times more inputs (fertilizers and pesticides).Crochet type rim , Hookless type rim
700 x 33c ( 33 – 622 ) 335gr. suitable for internal rim width 15-25 mm
330TPI Casing 50% HD Linen / 50% HD Corespun
PBO tire bead
Fast and Secure "GRIP+" Compound, 
extra puncture protection with Resilience compound system